Pourquoi la communication d'entreprise est-elle importante?
Les icônes de partage social sont légions sur les sites web. Tous en possèdent à la fin des articles ou sur le côté d'une page. Sont-ils pour autant utiles?
Le meilleur artisan du monde ne vendra rien s'il se confine dans son atelier sans communiquer sur son art. La communication est le lien entre l'entreprise et le client. C'est elle qui va faire découvrir vos produits et services aux consommateurs et les amener à vous contacter pour en savoir plus sur votre activité. Et ne vous y trompez pas, la communication est un métier à part entière qui obéit à des règles bien précises dans l'objectif de diffuser efficacement votre image.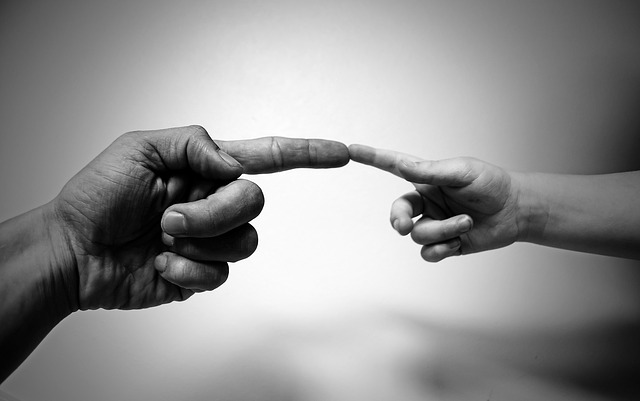 Tout comme le choix d'un livre débute par la couverture, le choix d'une entreprise par le client débute par l'image qu'elle diffuse. C'est pourquoi il ne faut pas négliger cette étape essentielle. Que vous travaillez en B to B ou B to C, vous devez être visible sur différents supports pour toucher au mieux votre cible.
"La communication consiste à comprendre celui qui écoute."
Les entreprises y consacrent enfin un budget
Pendant de nombreuses années, les entreprises se sont contentées de vendre leurs produits et services sans se soucier de la communication. Normal! Il n'y avait pas de concurrence. Un simple bouche à oreille suffisait. Un peu le syndrome actuel des libraires qui pleurent parce qu'Amazon leur vole des parts de marché. Ils ont attendu pendant des années en prenant simplement la plus grosse part du gâteau sans penser que quelqu'un arriverait un jour avec un nouveau concept et une communication digne du Coca des années 90. Aujourd'hui, avec l'offre grandissante, la mondialisation et la diversification des produits, les consommateurs peinent à s'y retrouver. Et les entreprises françaises sont à la traîne… C'est pourquoi, que ce soient des multinationales, des PME ou des micro-entreprises, les créateurs et créatrices d'entreprises comprennent aujourd'hui qu'il est primordial de consacrer un budget annuel à sa communication. C'est le meilleur vecteur pour créer un lien entre le client et l'entreprise.
Sans communication, pas de client!
J'exagère? Vous connaissez un petit artisan qui vit très bien sans avoir de site web. OK! Et combien d'heures a-t-il passé dans le froid sur les marchés à présenter ses œuvres? Car il s'agit là de communication! Et pas des plus rentables comparé à son tarif horaire! Il faut bien comprendre une chose: que vous ayez du talent ou non ne changera pas grand chose si vous ne communiquez pas sur votre activité. Dans les premiers temps, un bouche à oreille grâce aux amis et à la famille vous aidera à obtenir vos premiers contrats. Mais vos concurrents ont aussi des amis. Votre cercle s'épuisera rapidement. Et pour trouver de véritables clients, ceux qui viennent vers vous non pour faire plaisir à votre mère, mais parce qu'ils souhaitent payer vos services, vous devrez communiquer efficacement sur votre activité. Être vu, identifiable et facilement trouvable! C'est à ce moment-là qu'il est utile de se tourner vers un graphiste ou une agence de communication (plus cher!), car ils maitrisent les outils nécessaires pour valoriser votre entreprise. Un graphiste saura mettre en avant les aspects essentiels de votre métier pour mieux toucher le client. Car c'est cela la communication, être à l'écoute du client, comprendre ses attentes et utiliser ensuite ce savoir pour mettre en avant vos compétences. Des exemples criant ont prouvé la force de la communication:
Coca drogue le monde avec des sodas gavés de sucre grâce à une vielle campagne de publicité qui popularisa le père Noël: médaille d'or de la com'.
Le prix Goncourt rapporte plusieurs millions d'euros à son éditeur chaque année pour des livres souvent médiocres: communication visant l'esprit communautaire où il faut aimer ce que tout le monde aime…pour l'art on verra plus tard!
Apple vend des produits du quotidien à des tarifs hallucinant tout simplement parce qu'il diffuse une image élitiste et luxueuse. Tous les graphistes bossent sur mac uniquement parce c'est désormais obligatoire pour travailler avec les autres. Les logiciels professionnels sont les mêmes sous Windows et sous iOS…dégoûté…
Le producteur de Christeen and the queens arrive à vendre une voix passe-partout sur fond de musiques has-been téléchargées sur un logiciel de musique d'Apple (la créativité à ses limites…) juste en communiquant sur l'aspect garçon manqué de la chanteuse bobo snobinarde. Féminisme et démagogie font bon ménage quand il s'agit de communiquer pour vendre.
La communication coute cher!!!
Cette légende urbaine est certainement l'œuvre des directeurs commerciaux qui rechignent encore à laisser une part du budget d'entreprise à leurs collègues de la com'. La communication ne coute pas plus cher que n'importe quel autre prestation de service. Les graphistes ont des compétences qu'ils facturent selon un tarif clair et précis. Et c'est souvent sans compter les aléas qui nous forcent à bosser plusieurs heures le soir parce qu'un client à raccourci son délai ou qu'un fichier iconographique est arrivé en retard. La communication comprend une étude des besoins réels du client (car rares sont ceux qui savent exactement ce qu'on peut leur proposer pour faire connaître leur entreprise), les attentes du consommateurs (car c'est lui qu'il faut séduire au final), la réalisation du graphisme (illustrations, maquettes, sites web, le tout sur des logiciels professionnels) et l'envoi des fichiers aux imprimeurs (si besoin dans les format adaptés). Il faut bien comprendre que maîtriser les outils nécessaires à la réalisation de flyers, sites web et autres supports print ou web demande des années. Il est donc normal de rétribuer ce savoir-faire. Mais rassurez-vous, ce n'est en rien exorbitant! Personnellement, je pratique mon métier par passion. J'ai quitté une sécurité d'emploi pour lancer mon studio graphique, car j'aime profondément la création d'identités visuelles. C'est pourquoi je trouve toujours des solutions financières adaptées pour tous mes clients. Certains projets peuvent être modulés pour rentrer dans un budget réduit et communiquer malgré tout efficacement sur l'entreprise. Il y a toujours plusieurs voies exploitables (ou au moins deux solutions à un problème pour les fans de Kaamelott). C'est aussi ça être graphiste: trouver des solutions! Donc, non! La communication ne coute pas cher. Elle est simplement en adéquation avec le prix qu'un client est prêt à lui accorder.
J'espère que cet article vous a plus. Si c'est le cas, n'hésitez à le partager.
 Merci à vous. 
Romain